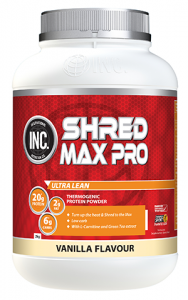 Formulated with high protein, low carb and fat powder profile to support ultimate lean and cut muscle mass. Includes L-Carnitine to support the transport of fat to the cellular powerhouse so it can be 'burned' as energy; as well as Green Tea Leaf extract, a natural thermogenic and powerful antioxidant.
KEY PERFORMANCE STATISTICS PER SERVE (PREPARED WITH WATER):
| Protein | Carbs | Fats |
| --- | --- | --- |
| 20g | 6g | 2g |
Benefits
Blend of protein for lean muscle growth and repair
Lean muscle tone
Additional thermogenics to burn fat whilst simultaneously building lean muscle tissue
Who
Individuals seeking a toned lean physique
Athletes striving for lean muscle whilst simultaneously reducing body fat
DIRECTIONS: Use up to 1 serve a day
HOW: Add 30g (1 heaped scoop) to 200mL of water for a low carb drink. Shake or
blend until mixed and serve.
May also be added to other foods to increase protein content.
Mix with juice or low fat milk to fuel energy needs.
WHEN: Use 60-90 minutes prior to exercise and within 30 minutes after exercise
NUTRITION INFORMATION
Servings per package: 66
Serving size: 30g
Average Quantity Average Quantity
per Serving per 100g
Energy 505kJ (121Cal) 1680kJ (402Cal)
Protein 20.0g 66.8g
Fat, Total 1.8g 5.9g
– Saturated 1.3g 4.2g
Carbohydrate 5.7g 19.0g
– Sugars 1.6g 5.4g
Dietary Fibre Less than 1g Less than 1g
Sodium 35mg 117mg
L-Carnitine 98mg 327mg
Green Tea Extract 30mg 100mg
Equivalent to dry leaf 750mg 2500mg
INGREDIENTS
INC ShredMax Pro Protein Blend (83%)[Whey Protein Concentrate, Whey
Protein Isolate, Emulsifiers (Sunflower
Lecithin, Soy Lecithin)], Maltodextrin,
Flavours, Inulin, L-Carnitine
Tartrate, Vegetable Gum (Guar), Anticaking
Agent (Silicon Dioxide) Green Tea Extract,
Sweetener (Sucralose, Acesulfame K).
CONTAINS: Milk and Soy Products.
BRANCHED CHAIN AMINO ACIDS
PER SERVING                                                 PER 100G
Leucine 2040mg                                                6800mg
Isoleucine 1250mg                                            4170mg
Valine 1140mg                                                  3820mg
OTHER AMINO ACIDS
Lysine 1690mg                                                 5620mg
Methionine 448mg                                            1490mg
Phenylalanine 628mg                                       2090mg
Threonine 1320mg                                           4410mg
Tryptophan 376mg                                            1250mg
Alanine 965mg                                                  3220mg
Glycine 376mg                                                  1250mg
Histidine 359mg                                                1200mg
Proline 1160mg                                                3870mg
Cystine 519mg                                                  1730mg
Tyrosine 626mg                                               2090mg
Serine 967mg                                                    3220mg
Aspartic Acid 2030mg                                        6760mg
Glutamic Acid 3330mg                                    11100mg
Arginine 502mg                                                 1670mg