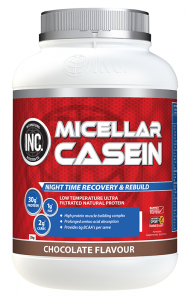 Casein is a minimally processed protein with unique gelling properties, providing a thick texture and consistency. Casein is absorbed slowly by the digestive system, providing muscle building and repairing BCAA's for up to 7 hours.
KEY PERFORMANCE STATISTICS PER SERVE (PREPARED WITH WATER):
| Protein | Carbs | Fats |
| --- | --- | --- |
| 30g | 2g | 1g |
Key benefits:
Contributes to the growth and repair of muscle
Slow release protein which supplies amino acids to the muscles throughout the night
May be used before bed or between meals
Optimal use: between meals and/or before bed
Who should use it:
Anyone undergoing a vigorous training or exercise routine
Athletes seeking to optimise their nutrition regime
DIRECTIONS: Use up to 3 serves a day
HOW: Add 40g (1 1/2 scoops) to 300mL of water. Shake or blend until mixed and
serve. May also be added to other foods to increase protein content.
Mix with low fat milk to fuel energy needs
WHEN: Any time of the day after exercise or between meals. For optimal results
consume in the evening before bed.
NUTRITION INFORMATION
Servings per package: 50
Serving size: 40g
Average Quantity Average Quantity
per Serving – per 100g
Energy 601kJ (143Cal) – 1500kJ (359Cal)
Protein 30.5g – 76.2g
-Casein 23.9g – 59.8g
-Whey 6.0g – 14.9g
Fat, Total 1.3g – 3.2g
– Saturated 0.8g – 1.9g
Carbohydrate 1.6g – 4.1g
– Sugars 0.8g – 2.0g
Dietary Fibre 1.0g – 2.4g
Sodium 200mg – 501mg
Potassium 162mg – 405mg
Calcium 533mg (67%RDI)- 1330mg
Phosphorus 513mg (51%RDI) – 1280mg
Zinc 3.6mg (30%RDI) – 9.1mg
Chloride 247mg – 618mg
INGREDIENTS
Micellar Casein Blend (89%) (Milk Protein
Isolate, Milk Protein Concentrate), Cocoa,
Vegetable Fat Powder [Emulsifiers (471,
472c), Stabilisers (339, 450) Antioxidant
(307b)], Flavour, Vegetable Gums (Guar,
Xanthan), Salt, Sweeteners (Sucralose,
Acesulphame K), Anticaking Agent (Silicon
Dioxide), Emulsifier (Soy Lecithin).
CONTAINS: Milk and Soy Products.
BRANCHED CHAIN AMINO ACIDS
Leucine 2730mg – 6830mg
Isoleucine 1510mg – 3770mg
Valine 1820mg – 4560mg
OTHER AMINO ACIDS
Tryptophan 395mg – 988mg
Threonine 1290mg – 3220mg
Phenylalanine 1400mg – 3500mg
Lysine 2380mg – 5950mg
Methionine 794mg – 1980mg
Histidine 768mg – 1920mg
Alanine 949mg – 2370mg
Arginine 1060mg – 2660mg
Aspartic Acid 2250mg – 5620mg
Cystine 338mg – 845mg
Glutamic Acid 6140mg – 15400mg
Glycine 552mg – 1380mg
Proline 2780mg – 6940mg
Serine 1600mg – 4000mg
Tyrosine 1510mg – 3770mg