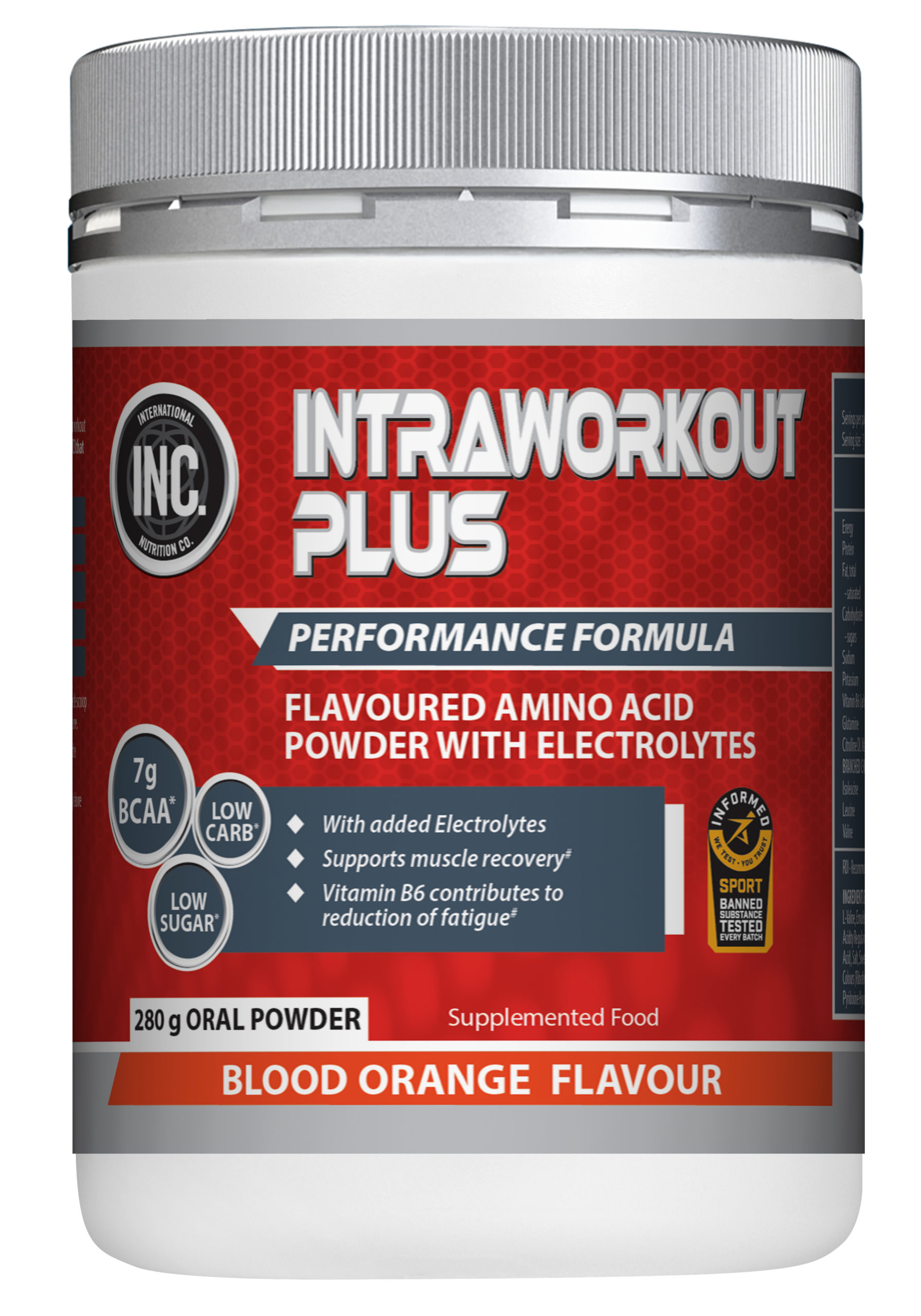 Specially formulated to provide you with the extra support you need during training, with 7 grams of branched chain amino acids (BCAAs) per serve to support muscle recovery and repair. Includes vitamin B6 to support energy production and aid in reducing fatigue, glutamine to help in maintaining muscle tissue, citrulline to assist with exercise performance and electrolytes to keep you hydrated.
KEY PERFORMANCE STATISTICS PER SERVE (PREPARED WITH WATER):
| Protein | Carbs | Fats |
| --- | --- | --- |
| 0.0g | 0.2g | 0.0g |
Blood Orange flavoured amino acid powder with electrolytes
Benefits
Contains BCAAs, which support healthy muscles
Helps in energy metabolism
Assisting muscle repair after exercise and maintain muscle tissue
Electrolytes helping you to replace those salts which are lost naturally through sweating
Informed Sports Certified
Who
Beginner or advanced athletes who want to maximise their workout performance
Athletes who want to improved intensity during exercise.
DIRECTIONS:
Serving size = 14g (1.5 scoops).
HOW: Add 14g (approx. 1.5 scoops) to 500mL of water. Stir or shake until dissolved.
WHEN: Take 1 serve daily before, during or after training or as directed by your healthcare professional.
NUTRITION INFORMATION
Servings per package: 20
Serving size: 14g
 
Average Quantity
per Serving
Average Quantity
per 100g
Energy
13 kJ (3 Cal)
90 kJ (22 Cal)
Protein
0.0g
0.0g
Fat, total
0.0g
0.0g
– Saturated
0.0g
0.0g
Carbohydrate
0.2g
1.3g
– Sugars
0.01g
0.1g
Sodium
220mg
1570mg
Potassium
190 mg
1360 mg
Vitamin B6 (as Pyridoxine Hydrochloride)
0.8mg (55%RDI)
5.7mg
Glutamine
2530 mg
18100 mg
Citrulline DL Malate
1870 mg
13300 mg
Branched Chain Amino Acids
 
 
Isoleucine
1750 mg
12500 mg
Leucine
3500 mg
25000 mg
Valine
1750 mg
12500 mg
RDI – Recommended Dietary Intake for adults. NVR 2006.
Ingredients
Amino Acid Blend [L-Leucine, L-Glutamine, L-Isoleucine, L-Valine, Emulsifiers (Soy and Sunflower lecithin)], Acidity Regulators (Citric Acid, Potassium citrate, Sodium Bicarbonate, Malic Acid), Citrulline DL Malate, Flavours, Sweetener (Sucralose), salt, Vegetable Gum (Guar Gum), Anticaking Agent (Silicon Dioxide), Colour (Riboflavin, Allura Red AC), pyridoxine hydrochloride