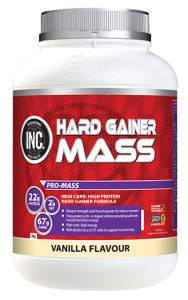 A protein source that delivers high energy for trainers who have difficulty gaining weight and retaining muscle; 'hard-gainers'. This formula contains three protein sources for staged protein release with high carbohydrates to support energy-demanding training sessions, and BCAA's in the ideal 2:1:1 ratio to support muscle mass. Added to this formula is 1.5g per serve of Creatine to support muscle growth and recovery.
KEY PERFORMANCE STATISTICS PER SERVE (PREPARED WITH WATER):
| Protein | Carbs | Fats |
| --- | --- | --- |
| 23g | 67g | 2g |
Benefits:
High calorie formula providing >380 kcal per serve
High in carbohydrates
Addition of Creatine for strength and power gains
This product is for:
Individuals with fast metabolisms
Anyone struggling to consume the calories needed for growth, repair, or maintenance.
DIRECTIONS: Use up to 2 serves a day
HOW: Add 100g (3 level scoops) to 300mL of water.
Shake or blend until mixed and serve. May also be added to other foods to increase
protein content. Mix with juice or low fat milk to fuel energy needs.
WHEN: Use 60-90 minutes prior to exercise and within 30 minutes after exercise
Servings per package: 20
Serving size: 100g
Average Average
Quantity Quantity per Serving per 100g
Energy 1600kJ (381Cal) 1600kJ (381Cal)
Protein 22.5g 22.5g
Fat, Total 1.8g 1.8g
– Saturated 1.2g 1.2g
Carbohydrate 66.9g 66.9g
– Sugars 7.0g 7.0g
Dietary Fibre Less than 1g Less than 1g
Sodium 90mg 90mg
Magnesium 47.3mg (15%RDI) 47.3mg
Calcium 160mg (20%RDI) 160mg
Iron 2.8mg (23%RDI) 2.8mg
Zinc 2.5mg (21%RDI) 2.5mg
Selenium 11.1µg (16%RDI) 11.1µg
Vitamin A 71.9µg (10%RDI) 71.9µg
Thiamine 0.4mg (39%RDI) 0.4mg
Ribo_avin 0.7mg (43%RDI) 0.7mg
Niacin 3.9mg (39%RDI) 3.9mg
Vitamin B12 0.9µg (47%RDI) 0.9µg
Vitamin C 17.3mg (43%RDI) 17.3mg
Vitamin E 3.7mg (37%RDI) 3.7mg
Vitamin B6 0.7mg (41%RDI) 0.7mg
Folic Acid 89.5µg (45%RDI) 89.5µg
Creatine Monohydrate 1.5g 1.5g
Ingredients
Maltodextrin, Whey Protein Concentrate (22%)[Whey Protein Concentrate, Emulsifer
(Sunflower Lecithin)], Skim Milk Powder, Soy Protein Isolate (3%)[Soy Protein Isolate, Emulsifier (Soy Lecithin)],
Skim Milk Powder, Fructose, Creatine Monohydrate, Cocoa Powder,
Calcium Caseinate (1%) [Calcium Caseinate,
Emulsifier (Monoglycerides)], Flavours (Contain Wheat), Creatine
Monohydrate, BCAAs (0.6%) [L-Leucine, L-Valine,
L-Isoleucine], Vegetable Gum (Guar), Flavours,
Anticaking Agent (Silicon Dioxide), Vitamins and
Minerals (Magnesium Oxide, Ascorbic Acid, Vitamin E
Acetate, Ferrous Fumarate, Nicotinamide, Zinc Oxide,
Manganese Sulphate, Pyridoxine Hydrochloride,
Vitamin B12, Calcium Pantothenate, Riboflavin,
Vitamin A Acetate, Thiamine Hydrochloride, Sodium
Molybdate Dihydrate, Selenomethionine,
Cholecalciferol, Folic Acid, Biotin), Sweetener
(Sucralose), Corn Syrup Solids, Lactose.
CONTAINS: Milk, Wheat and Soy Product
BRANCHED CHAIN AMINO ACIDS (Naturally occurring and added)
PER SERVING                                 PER 100G
Leucine 2470mg                                2470mg
Isoleucine 1470mg                            1470mg
Valine 1420mg                                  1420mg