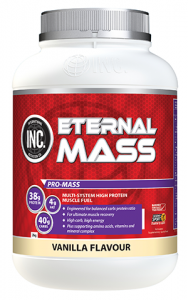 Eternal Mass is formulated for muscle gainers containing a staged protein profile of Whey Protein Isolate (WPI), Whey Protein Concentrate (WPC) , Calcium Caseinate and Soy Protein Isolate for maximum goals. This formula is ideal for trainers who are looking to bulk up and gain lean muscle mass. It has a balanced carbohydrate to protein ratio, with 40g carbs per serve, to support energy levels, plus amino acids and a vitamin and mineral complex to support muscle mass and recovery post training sessions. This formula also contains Papain to support digestion.
KEY PERFORMANCE STATISTICS PER SERVE (PREPARED WITH WATER):
| Protein | Carbs | Fats |
| --- | --- | --- |
| 40g | 40g | 4g |
Benefits:
Provides calories and nutrients for those with fast metabolisms or who participate in intense sport
Provides the correct ratio of nutrients needed for muscle growth
Ideal for individuals seeking optimal nutrition after intense training sessions
This product is for:
Athletes looking for optimal recovery
Individuals with fast metabolisms
Beginner or advanced trainers wanting to build muscle mass
DIRECTIONS: Use up to 2 serves a day
HOW: Add 90g (2 heaped scoops) to 300mL of water. Shake or blend until mixed
and serve. May also be added to other foods to increase protein content.
Mix with juice or low fat milk to fuel energy needs.
WHEN: Use 60-90 minutes prior to exercise and within 30 minutes after exercise.
NUTRITION INFORMATION
Servings per package: 22
Serving size: 90g
Average Quantity Average Quantity
per Serving per 100g
Energy 1480kJ (353Cal) 1640kJ (392Cal)
Protein 38.0g 42.3g
Fat, Total 4.3g 4.7g
– Saturated 2.6g 2.9g
Carbohydrate 39.5g 43.8g
– Sugars 8.0g 8.8g
Dietary Fibre less than 1g less than 1g
Sodium 307mg 342mg
Magnesium 130mg (41%RDI) 144mg
Calcium 260mg (32%RDI) 289mg
Iron 4.2mg (35%RDI) 4.7mg
Zinc 3.0mg (25%RDI) 3.3mg
Selenium 11.6µg (15%RDI) 12.8µg
Vitamin A 80.5µg (11%RDI) 89.5µg
Thiamine 0.4mg (38%RDI) 0.5mg
Riboflavin 0.7mg (42%RDI) 0.8mg
Niacin 3.6mg (39%RDI) 3.9mg
Vitamin B12 1.0mg (48% RDI) 1.1mg
Vitamin C 15.7mg (39%RDI) 17.5mg
Vitamin E 3.4mg (34%RDI) 3.7mg
Vitamin B6 0.6mg (37% RDI) 0.7mg
Folic Acid 104µg (52% RDI) 115µg
Taurine 27mg 30mg
INC Eternal Mass Protein Blend (56%) [Whey
Protein Concentrate, Soy Protein Isolate,
Whole Milk Powder, Calcium Caseinate,
Whey Protein Isolate, Emulsifiers (Sunflower
Lecithin, Soy Lecithin, Monoglycerides)],
Maltodextrin, Fructose, Cocoa Powder, Flavours (Contains Wheat),
L-Glutamine, Branched Chain Amino Acids
(L-Leucine, L-Isoleucine, L-Valine), Vitamins and
Minerals (Magnesium Oxide, Ascorbic Acid,
Vitamin E Acetate, Ferrous Fumarate, Nicotinamide,
Zinc Oxide, Manganese Sulphate,
Pyrodixoine Hydrochloride, Vitamin B12, Calcium
Pantothenate, Riboflavin, Vitamin A Acetate,
Thiamine Hydrochloride, Sodium Molybdate
Dihydrate, Selenomethionine, Cholecalciferol,
Folic Acid, Biotin), Vegetable Gum (Guar), Papain,
Anticaking Agent (Silicon Dioxide), Sweetener
(Sucralose), L-Taurine, Corn Syrup Solids, Lactose
CONTAINS: Milk, Wheat and Soy Products.
BRANCHED CHAIN AMINO ACIDS (Naturally occurring and added)
Per serving                                          per 100g
Leucine 3680mg                                    4090mg
Isoleucine 2190mg                                2430mg
Valine 2180mg                                      2430mg
OTHER AMINO ACIDS
Lysine 2760mg                                      3070mg
Methionine 845mg                                939mg
Phenylalanine 1570mg                        1740mg
Threonine 1940mg                              2150mg
Tryptophan 591mg                                656mg
Alanine 1640mg                                  1820mg
Glycine 1040mg                                  1150mg
Histidine 830mg                                  922mg
Proline 2150mg                                  2390mg
Cystine 666mg                                   740mg
Tyrosine 1390mg                                1540mg
Serine 1900mg                                  2110mg
Aspartic Acid 3820mg                     4240mg
Glutamic Acid 6720mg                      7470mg
Arginine 1720mg                              1910mg
Glutamine 900mg                            1000mg