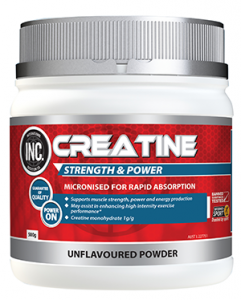 A micronised form of creatine for a more advanced format to support better absorption and utilisation in the body. Creatine supports strength, power and energy production. This is a single ingredient product in a versatile format to add to juice, shakes or other liquids.
KEY PERFORMANCE STATISTICS PER SERVE (PREPARED WITH WATER):
| Creatine | Carbs | Fats |
| --- | --- | --- |
| 5g | 0g | 0g |
Benefits:
Increase strength and power
Workout endurance
Lean muscle gain
This product is for:
Beginner or advanced athletes who want to maximise strength and power
Athletes seeking increased muscle mass and/or optimal performance
DIRECTIONS: Adults: Serving size = 5g (1 level scoop).
HOW: Loading phase: Take 1 serve 4 times daily for 5 days. Maintenance phase: Take 1 serve daily or as
directed by your healthcare professional. Add water or high carbohydrate drink, stir and serve. Ideally serve
with juice or cordial as Creatine is best absorbed when glucose (or fructose) is present. Seek professional
advice before long term use.
NUTRITION INFORMATION
Servings per package: 100
Serving size: 5g (1 level scoop)
Average Quantity per Serving
Energy 0kJ (20Cal)
Protein 0.0g
Fat, Total 0.0g
– Saturated 0.0g
Carbohydrate 0.0g
– Sugars 0.0g
Creatine monohydrate 5g
Ingredients
Creatine monohydrate (100%)