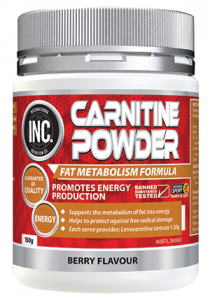 Carnitine is an amino acid and supports the utilisation of fat as an energy source. Carnitine transports long-chain fatty acids into the mitochondria so that they can be 'burned' to produce energy. Carnitine is also an antioxidant which assists the body from free radical damage.
KEY PERFORMANCE STATISTICS PER SERVE (PREPARED WITH WATER):
| Levocarnitine tartrate | Equiv. Levocarnitine |
| --- | --- |
| 1.50g | 1.02g |
Benefits:
Increase in energy production and fat metabolism
Who
Individuals seeking maximal fat loss
Beginner to advanced trainers may use carnitine to support fat loss and/or increase energy production
DIRECTIONS: Adults: Serving size = 2g (1/2 scoop)
HOW: Add 2g (1/2 scoop) to 200ml of cold water. Stir or shake until dissolved.
WHEN: Take 1-2 serves daily, before exercise, or as directed by your healthcare professional.
WHO: Multi-sport athletes, body builders and weight training individual
NUTRITION INFORMATION
Servings per package: 75
Serving size: 2g (1/2 scoop)
Average Quantity per Serving
Energy 7kJ (2Cal)
Protein 0.0g
Fat, Total 0.0g
– Saturated 0.0g
Carbohydrate 0.3g
– Sugars 0.1g
Sodium 0mg
Ingredients
Each 2g serve provides:
Levocarnitine tartrate 1.50g
Equiv. Levocarnitine 1.02g