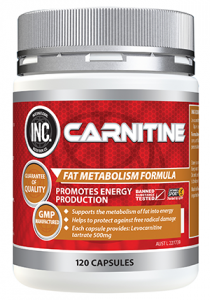 Carnitine is an amino acid and supports the utilisation of fat as an energy source. It transports long-chain fatty acids into the mitochondria so that they can be 'burned' to produce energy. Carnitine is also an antioxidant which assists the body from free radical damage.
| Levocarnitine tartrate | Equiv. Levocarnitine |
| --- | --- |
| 500mg | 341mg |
Benefits:
Increase in energy production and fat metabolism
This product is for:
Individuals seeking maximal fat loss
Beginner to advanced trainers may use carnitine to support fat loss and/or increase energy production
DIRECTIONS: Adults: Take 3-6 capsules daily, at least one hour
before exercise, or as directed by your healthcare professional.
WHEN: Take evenly throughout the day, including 1 before
training.
INGREDIENT LIST: Each capsule provides:
Levocarnitine tartrate 500mg
Equiv. Levocarnitine 341mg