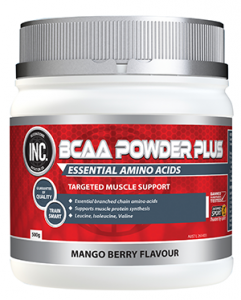 BCAA POWDER PLUS is an essential complex of Branched Chain Amino Acids which help maintain muscle mass and provide support for hard training sessions. BCAA's are found in the muscle, where they account for approximately one third of muscle protein. Muscles have an increased need for BCAA's during times of intense training. BCAA's can be used directly by skeletal muscles as a source of energy.
KEY PERFORMANCE STATISTICS PER SERVE (PREPARED WITH WATER):
| Leucine | Isoleucine | Valine | Taurine |
| --- | --- | --- | --- |
| 2.5g | 1.25g | 1.25g | 1g |
Benefits:
Reduces muscle breakdown during exercise
Promotes an anabolic environment for muscle growth
Clinically proven 2:1:1 ratio of branched chain amino acids
Who:
Athletes seeking optimal muscle growth and recovery
Individuals who perform long bouts of cardio or intense training sessions
DIRECTIONS: Adults: Serving size = 9.5g (1 level scoop).
HOW: Add 9.5g (1 scoop) to 400ml of cold water. Stir or shake until dissolved.
WHEN: Take 1-2 serves daily before, during or within 30 minutes after training or as directed by your healthcare professional.
Servings per package: 52
Serving size: 9.5g (1 level scoop)
Average Quantity per Serving
Energy 26kJ (6Cal)
Protein 0.0g
Fat, Total 0.0g
– Saturated 0.0g
Carbohydrate 0.6g
– Sugars 0.0g
Sodium 4mg
Ingredients
Each 9.5g serve provides:
Leucine 2.5g
Isoleucine 1.25g
Valine 1.25g
Taurine 1g
Calcium beta-hydroxy-beta-methylbutyrate 500mg
Ornithine monohydrochloride 500mg
Beta vulgaris (Beetroot) root juice powder 198mg
Valine 150mg