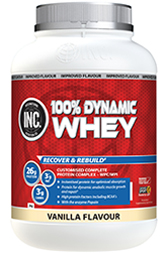 100% Dynamic Whey is an advanced protein source blending WPI with WPC to help meet the heavy demands of training. The protein sources are instantised for optimal absorption. This formula has added digestive enzymes to support better digestion and is ideal for those seeking fast training recovery and lean muscle growth.
KEY PERFORMANCE STATISTICS PER SERVE (PREPARED WITH WATER):
| Protein | Carbs | Fats |
| --- | --- | --- |
| 26g | 3g | 2g |
Benefits:
Blend of proteins, ensuring the muscles are provided with amino acids for several hours.
Ideal for muscle repair and recovery
Muscle growth without any unwanted bulk
This product is for
Individuals seeking a protein supplement which is suitable for anytime use.
Ideal for Beginner to advanced consumers
DIRECTIONS: Use up to 3 serves a day
HOW: Add 34g (1 1/2 scoops) to 200mL of water for a low carb drink. Shake or blend until mixed and serve.
May also be added to other foods to increase protein content.
Mix with juice or low fat milk to fuel energy needs.
WHEN: Use 60-90 minutes prior to exercise and within 30 minutes after exercise
NUTRITION INFORMATION
Servings per package: 57
Serving size: 35g
Average Quantity / Average Quantity
per Serving – per 100g
Energy 611kJ (146Cal) – 1750kJ (417Cal)
Protein 26.2g – 74.9g
Fat, Total 3.0g – 8.6g
– Saturated 2.3g – 6.4g
Carbohydrate 3.0g – 8.7g
– Sugars 2.0g – 5.8g
Dietary Fibre Less than 1g – Less than 1g
Sodium 46mg – 136mg
BRANCHED CHAIN AMINO ACIDS
Leucine 2700mg – 7950mg
Isoleucine 1660mg – 4880mg
Valine 1520mg – 4460mg
OTHER AMINO ACIDS
Lysine 2230mg – 6570mg
Methionine 594mg – 1750mg
Phenylalanine 833mg – 2450mg
Threonine 1750mg – 5160mg
Tryptophan 498mg – 1470mg
Alanine 1280mg – 3760mg
Glycine 498mg – 1470mg
Histidine 475mg – 1400mg
Proline 1540mg – 4530mg
Cystine 688mg – 2020mg
Tyrosine 892mg – 2440mg
Serine 1280mg – 3770mg
Aspartic Acid 2690mg – 7900mg
Glutamic Acid 4410mg – 13000mg
Arginine 665mg – 1960mg
INGREDIENT LIST
INC 100% Dynamic Whey Protein Blend (93%) [Whey Protein Concentrate, Whey Protein Isolate, Emulsifiers (Sunflower Lecithin, Soy Lecithin)], Medium Chain Triglycerides (Contains Sodium Caseinate), Flavours, Inulin, Vegetable Gum (Xanthan Gum), Papain, Anti-Caking Agent (Silicon Dioxide), Sweeteners(Sucralose, Acesulfame K).
CONTAINS: Milk and Soy Products
BRANCHED CHAIN AMINO ACIDS
Leucine 2650mg  / (per 100g) 7800mg
Isoleucine 1630mg / (per 100g) 4780mg
Valine 1490mg / (per 100g) 4390mg
OTHER AMINO ACIDS
Lysine 2190mg  / (per 100g)  6430mg
Methionine 582m  / (per 100g) 1700mg
Phenylalanine 822mg  / (per 100g) 2420mg
Threonine 1720mg  / (per 100g) 5070mg
Tryptophan 487mg  / (per 100g) 1430mg
Alanine 1260mg  / (per 100g) 3700mg
Glycine 496mg  / (per 100g) 1460mg
Histidine 467mg  / (per 100g) 1370mg
Proline 1510mg  / (per 100g) 4450mg
Cystine 672mg  / (per 100g) 1980mg
Tyrosine 817mg  / (per 100g) 2400mg
Serine 1260mg  / (per 100g) 3720mg
Aspartic Acid 2650mg  / (per 100g) 7800mg
Glutamic Acid 4340mg  / (per 100g) 12800mg
Arginine 660mg / (per 100g) 1940mg