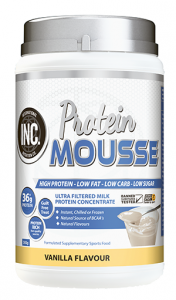 An indulgent, low carbohydrate, low sugar, and low fat formula which can be mixed into an amazing tasting dessert at any time of the day. The unique blend of casein, whey protein concentrate (WPC), whey protein isolate (WPI), and egg white promotes lean tissue repair and growth.
KEY PERFORMANCE STATISTICS PER SERVE (PREPARED WITH WATER):
| Protein | Carbs | Fats |
| --- | --- | --- |
| 35g | 3g | 1g |
Benefits
30 g of protein per serve
Great tasting high protein dessert
Satisfies anyone with a sweet tooth
Who
Individuals looking for lean muscle growth or recovery
DIRECTIONS: Use up to 3 serves a day
HOW: Add 45g (3 level scoops) to 100ml of chilled water and whisk rapidly with a whisk/fork to aerate for 1 to 2 minutes then consume immediately OR allow to set in a refrigerator for 30 minutes before serving. Alternatively create the perfect frozen dessert by freezing. For best results, use an electric hand mixer.
WHEN: Any time of the day or evening, prior to or after exercise.
with juice or cordial as Creatine is best absorbed when glucose (or fructose) is present. Seek professional
advice before long term use.
NUTRITION INFORMATION
Servings per package: 11
Serving size: 45g
Average Quantity                                         Average Quantity
per Serving                                                  per 100g
Energy 698kJ (167Cal)                                1550kJ (370Cal)
Protein 35.6g                                                79.1g
Fat, Total 1.0g                                              2.2g
– Saturated Less than 1g                              1.6g
Carbohydrate 3.1g                                        6.8g
– Sugars 2.0g                                                4.4g
Sodium 446mg 990mg
Ingredients
Milk Protein Concentrate (68%), Whey Protein Concentrate, Whey Protein Isolate [Whey
Protein Isolate, Emulsifier (Soy Lecithin)], Egg Albumen, Natural Flavours, Sweetener (Sucralose).
BRANCHED CHAIN AMINO ACIDS       PER 100G
Leucine 3410mg                                        7590mg
Isoleucine 1960mg                                    4360mg
Valine 2190mg                                          4860mg
OTHER AMINO ACIDS
Lysine 2830mg                                          6280mg
Methionine 947mg                                    2100mg
Phenylalanine 1560mg                              3460mg
Threonine 1780mg                                    3960mg
Tryptophan 534mg                                    1190mg
Alanine 1360mg                                         3010mg
Glycine 691mg                                          1530mg
Histidine 853mg                                        1900mg
Proline 2940mg                                        6540mg
Cystine 580mg                                        1290mg
Tyrosine 1620mg                                      3600mg
Serine 1910mg                                        4240mg
Aspartic Acid 3010mg                              6700mg
Glutamic Acid 6950mg                            15400mg
Arginine 1210mg                                    2690mg